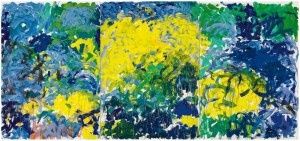 The Joan Mitchell Foundation has sent a cease-and-desist letter to Louis Vuitton after the brand used several works by Mitchell in an advertising campaign, despite having been explicitly denied permission to do so. Vuitton recently released a series of ads starring Léa Seydoux in which the French actress poses with one of the brand's handbags in front of a painting by the late Abstract Expressionist, who died in 1992. Appearing in print and online in both France and the US, the campaign utilizes three works by Mitchell—Edrita Fried, 1981;Quatour II for Betsy Jolas, 1976; andLa Grande Vallée XIV (For a Little While), 1983—but does not name them or credit the artist; the paintings appear cropped in the background.RelatedSFMOMA CUTS 20 JOBS AMID ATTENDANCE WOESJOE TILSON (1928–2023) The photos in which Seydoux appears are suspected to have been shot at the Fondation Louis Vuitton in Paris, which is hosting "Monet Mitchell," an exhibition that places Mitchell's work alongside that of French Impressionist Claude Monet, whom the American artist counted as a major inspiration.
The Fondation, a contemporary art space that opened in 2014, is owned by Vuitton's parent, the luxury conglomerate LVMH. Christa Blatchford, director of the Joan Mitchell Foundation, told theNew York Timesshe was "shocked" to see the ads. Blatchford says she twice denied requests from the company to use Mitchell's art in a campaign last winter, despite an offer of a donation from LVMH chief Bernard Arnault, one of the wealthiest people in the world.
Blatchford lamented the lack of separation between the Fondation Louis Vuitton and the brand, noting that the Joan Mitchell Foundation typically turns down all requests for commercial use. "We have not done it for anybody," she said. "We have never done a cease-and-desist letter, either.".