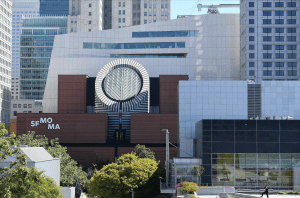 The San Francisco Museum of Modern Art on November 10 publicly announced that it was eliminating twenty jobs. The move came just weeks after the institution implemented a 20 percent cost-of-admission price increase, raising general admission from $25 to $30. Seven staffers lost their jobs, representing 2 percent of the museum's total workforce, while thirteen vacant positions were deemed closed and will not be filled. Museum director Christopher Bedford, in anopen letterto the community published on SFMoMA's website, pointed to the institution's continued failure to lure the number of attendees it did before the Covid-19 pandemic as behind the cuts. "Despite the growth in visitorship since reopening in March 2021, our fiscal year 2023 attendance was about 65 percent of what it was in fiscal year 2019, mirroring the reduced foot traffic in San Francisco's Downtown Core and our city's broader economic issues," he wrote.
Bedford acknowledged the recent bump in admission price and an accompanying rise in membership fees, but additionally noted that "lower attendance figures coupled with rising costs and the forthcoming exhaustion of pandemic-related relief funds have placed pressure on SFMoMA's finances and necessitated an assessment of our budget, operations, and program."RelatedJOE TILSON (1928–2023)MOHAMED ALMUSIBLI TO LEAD KUNSTHALLE BASEL SFMoMA, like many art institutions around the world, was forced tofurlough staffwhen the pandemic hit. The following year, itslashedjobs as visitors stayed away, eliminating such popular long-running initiatives as its film program and the Artists Gallery, which sold, loaned, and rented to businesses and interior design concerns works by local artists of all statures, providing many with much-needed sources of income. Bedfordtook overdirectorship of the museum in 2022, arriving from the Baltimore Museum of Art, whose surrounding community he made efforts toengage, and whose collection he had worked to diversify, notably (andfeather-rufflingly) by attempting to deaccession works by established older white male artists. The San Francisco institution is not alone in its struggle to attract visitors. The Dallas Museum of Art in Octobershedtwenty staffers, or about 8 percent of its employees, with 2022 attendance down 16 percent from pre-pandemic levels.
As well, SFMoMA's admission price increases are in line with those implemented in recent months by New York's Metropolitan Museum of Art,Museum of Modern Art,Solomon R. Guggenheim Museum, and Whitney Museum of American Art, and by the Philadelphia Museum of Art. "The decision to lay off staff is tremendously difficult and one we actively worked to avoid," wrote Bedford. "Despite the difficulty of this moment, our vision remains steadfast and ambitious: to sustain a welcoming museum that offers a robust range of exhibitions and programs that connect to our contemporary lives, give voice to previously underrepresented artists and thinkers, and expand the narratives of art history.".