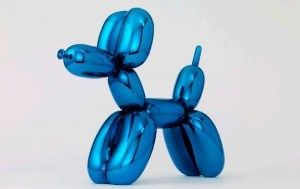 A collector attending a Miami art fair last Thursday shattered a Jeff Koons Balloon Dog valued at $42,000 after accidentally nudging the plinth on which it was perched. The sixteen-inch-high sculpture, titledBalloon Dog (Blue)and part of a 2021 limited edition, was on view at Art Wynwood, at a booth belonging to the Miami-based Bel-Air Art Gallery, when a woman "unintentionally" gave the plinth holding it "a little kick," according to Cédric Boero, the gallery's district manager. Video shot by local artist and collector Stephen Gamson showed the shiny, electric-blue porcelain work in shards on the booth's floor. "When this thing fell to the ground," Gamson told theMiami Herald, "it was like how a car accident draws a huge crowd on the highway." He immediately offered to buy the wreckage. "To me, it's the story," he said.
"It makes the art even more interesting."RelatedSFMOMA CUTS 20 JOBS AMID ATTENDANCE WOESJOE TILSON (1928–2023) Fortunately for the woman who smashed the sculpture, it was insured, and she will not be liable for its cost. Boero appeared sympathetic to her plight. It was the opening cocktail, lots of people were on our booth," he toldArtnet News. "Of course it is heartbreaking to see such an iconic piece destroyed. However, the collector never intended to break the sculpture." Balloon Dog (Blue)was a miniature version of Koons's ten-foot-high polished stainless steel sculpture of the same name held by the Broad in Los Angeles.
It is not the first work by the artist to suffer such an ignominious fate. Another porcelain Balloon Dog was accidentally smashed during the 2016 iteration of Design Miami. "It's a shame when anything like that happens but, you know, it's just a porcelain plate," he told theNew York Postat the time. "We're really lucky when it's just objects that get broken, when there's little accidents like that, because that can be replaced.".