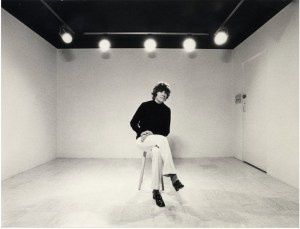 Influential London gallerist Angela Flowers, whose exceptional reputation rested not only on her taste but on her loyalty, died August 11 at the age of ninety. Opening her first gallery in an attic above a left-wing co-op in 1970, Flowers expanded her business to an $8 million operation at its peak, employing a staff of two dozen. Showing only work made by British artists after 1952, she was prescient in her marketing efforts and in her choice of locations, frequently arriving at an idea or an address a decade before it would be voraciously assimilated by the art world. Flowers's unflagging exertions on the behalf of her artists gained her their commitment, which in many cases lasted decades, unusual in the business.RelatedHELEN FRANKENTHALER FOUNDATION SUED FOR "DESTROYING" PAINTER'S LEGACYBMA CREATES PAID INTERNSHIPS HONORING VALERIE MAYNARD Angela Flowers was born Angela Holland on December 11, 1932, in Croydon, England.
As World War II ignited, her father served first as a fireman on the River Thames and then as a military intelligence officer in Italy, while her mother took work in a munitions factory. Angela attended boarding school and after the war graduated from London's Webber Douglas Academy of Dramatic Art. Seeking her footing, she held a variety of jobs including those of cinema usher, au pair, and actor, appearing in the first Benny Hill film,Who Done It?(1956) as a Dagenham Piper Girl. During this time, she met, proposed to, and married photographer Adrian Flowers in a span of weeks.
The pair went on to have four children. In 1970, having become interested in art during a family trip to St. Ives, she opened her first gallery in the garret of the Artists' International Association (AIA), a radical political organization initially aimed at uniting artists in support of democracy and peace before becoming simply an exhibiting entity. Flowers agreed to pay no rent but to share commissions with the group.
She operated her business on two principles: She would show only living British artists, and nothing made before 1952. The Angela Flowers Gallery launched with an exhibition of paintings by Patrick Hughes, who would remain with the dealer for nearly fifty years. Printmaker Tom Phillips received his inaugural solo show there shortly afterward. In another early exhibition, "Postcard Show," Flowers commissioned artists including Joseph Beuys, Peter Blake, Richard Hamilton, and David Hockney to make works that were then turned into postcards. The gallery was almost immediately and tremendously successful, to the chagrin of the hosting AIA.
"We'd have these dreadful meetings in which people would cry," Flowerslater remembered. "The AIA hated me." That same year, Flowers met business journalist Robert Heller, with whom she began an affair. In 1971, the demoralized AIA disbanded, and Flowers moved her gallery to Portland Mews. Flowers obtained a divorce the following year and in 1973 gave birth to her and Heller's daughter Rachel: Born with Down's syndrome, Rachel would go on to become an artist, though her mother encouraged her to show with other galleries, rather than succumb to nepotism.
During this span, Flowers mounted shows of Fionnuala Boyd, Leslie Evans, and Penny Slinger, whose feminist oeuvre centered food and eroticism. "Being a woman running an art gallery was unusual at that time," Slinger told theFinancial Timesin 2020, "and that alone would bestow on her the mantle of feminism, especially as she was one of the few galleries that showed avant-garde." "All I was interested in was my own idea," Flowers told the same publication. "I always say it sprung from [my reaction to] the pomposity of places like the Marlborough," the tony Bond Street gallery that was the toast of the London art scene in the 1960s and 1970s. Flowers moved the gallery several more times, beginning with Tottenham Mews in 1979.
In 1983, she established the "Artist of the Day" program, mounting twenty-four-hour solo shows of emerging artists; she would continue the effort for thirty years. In 1988, Flowers East opened in an industrial building in Hackney, east London, ten years before the area become the hub of the London art scene. A second location in Cork Street soon followed. In 1997, she opened an outpost in Los Angeles, operating it for more than a decade before shutting up shop there and opening on Madison Avenue in New York in 2003, a year after moving her east London flagship to Shoreditch.
In 2009, Flowers upped stakes in New York and shifted her operation to Chelsea, where it would remain until 2019. Flowers opened in Hong Kong in 2020; the outpost rode out the pandemic and continues to operate amid a rapidly shifting and politically fraught arts scene. Among the other artists Flowers represented for decades were painters Bernard Cohen and Derek Hirst and sculptor Nicola Hicks, all of whom spent at least thirty years in her stable. Her son Matthew took over as the gallery's managing director in 1989.
Queried in 2020, on the occasion of her gallery's fiftieth anniversary, as to what lay behind the operation's success, Flowers offered a typically personal assessment: "Just things I couldn't resist, I suppose.".