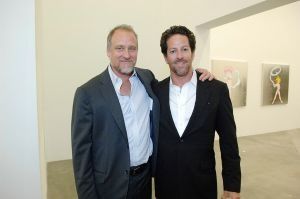 Gallerists Jeff Poe and Tim Blum, who in 1994 founded Los Angeles art scene mainstay Blum & Poe, are going their separate ways. Poe will depart the gallery, which at this time will retain its well-known moniker, and which Blum will continue to run. Neither party offered a reason for the separation. Poe in a statement acknowledged that he would be "going down a simpler and more fluid path.
I'll continue to work with artists and art; I have to, it's given me great joy and nothing is more important to me. I've also always been engaged with building quieter aspects of the gallery&#—developing real estate, working with architecture, design&#—and I'll continue with that too. I'm pretty excited about having the freedom to fully embrace a new practice."RelatedNEWS AND ANNOUNCEMENTSNEWS AND ANNOUNCEMENTS Blum & Poe opened amid a very different LA art-world landscape than that of today. The city has seen tremendous growth in its art scene, and is now home to a number of blue-chip galleries and a broad range of small and midsize dealers.
As well, it hosts top-tier art fair Frieze LA, the closely watched Felix Art Fair, and a recently launchedgallery weekend. The city's museums have enjoyed increased local and international attention as well, thanks to efforts including the Hammer Museum's Made in LA biennial and the Getty's Pacific Standard Time initiative. During its nearly three-decade run, Blum & Poe, which currently represents sixty artists from sixteen countries, has been crucial in elevating the careers of heavy hitters including Mark Grotjahn, Takashi Murakami, Yoshitomo Nara, and Henry Taylor. The gallery operates outposts in New York and Tokyo and has staff in Taipei and Paris.
With Poe out of the picture, New York gallery chief Matt Bangser will step into the newly created role of managing partner. "It's been an extraordinary journey building this gallery with Jeff," Blum said in a statement. "Starting out in Los Angeles in 1994 with a paltry sum of money and a 1200-square-foot space and taking the gallery through this explosive global growth within the art world is nothing short of remarkable. I see this moment as yet another inflection point in this history, and I am emboldened by the strength of our team now spanning Taipei, Tokyo, Los Angeles, New York, and Paris.".