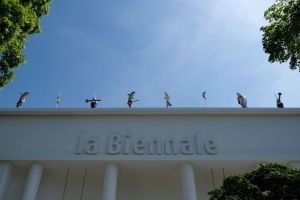 The facilitators of the New Zealand pavilion have announced that the country is bowing out of the Sixtieth Venice Biennale owing to inadequate resources, as well as to concerns regarding funding and workload. The withdrawal marks the first time in two decades that New Zealand will not have a pavilion at the prestigious event. According to architecture magazineOcula, which first reported the news, pavilion organizer Creative New Zealand has acknowledged that the country plans to return to its Arsenale digs for the sixty-first, sixty-second, and sixty-third editions of the Biennale, to take place in 2026, 2028, and 2030, respectively.
As well, New Zealand artists will participate in the 2024 Biennale's main show, titled "Foreigners Everywhere."RelatedHELEN FRANKENTHALER FOUNDATION SUED FOR "DESTROYING" PAINTER'S LEGACYBMA CREATES PAID INTERNSHIPS HONORING VALERIE MAYNARD A continent away, Niger finds itself embroiled in a crisis that may prevent it from staging its own pavilion at the Biennale. Following the July 26 coup in which democratically elected President Mohamed Bazoum was removed from power by a military junta, his close allies Souleymane Ibrahim and Mohamed Hamid, both of whom play major roles in the forthcoming pavilion, went missing. The pair have since been reported safe as of August 9, according toThe Art Newspaper,  but whether the political storm roiling the country will have abated in time for Niger to realize a pavilion at the Biennale remains unclear.
Ibrahim, head of Niger's Agency for the Promotion of Cultural Enterprises and Industries, and Hamid, who until the coup was Niger's minister of culture, tourism and crafts, in May introduced Niger's "Archifusion" exhibition at the Venice Architecture Biennale. Ibrahim, who commissioned the exhibition, is also commissioner of Niger's pavilion at the art Biennale. The military regime currently in power has named Guichen Aghaichata, a twenty-eight-year-old business lawyer and Niger scout, as Hamid's replacement..