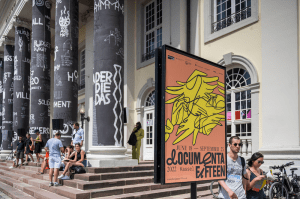 The organizers of Documenta have released astatementcondemning Indonesian collective ruangrupa's alleged support of Palestine following the recent attacks by Hamas militants against Israel and the subsequent "complete siege" on Gaza announced by Israeli defense minister Yoav Gallant a day later. Ruangrupa curated the 2022 edition of Documenta, the contemporary art exhibition that is held every five years in Kassel, Germany. According toHyperallergic, Documenta managing director Andreas Hoffmann posted the statement after two members of the collective reportedly "liked" Instagram videos of people chanting "Viva Palestine" and "Palestine will be free" at a pro-Palestine rally on Saturday, October 7. Ruangrupa last year sparked controversy with their inclusion in the show of works that appeared to make fun of or otherwise malign Jewish people. Documenta director Sabine Schormann ultimatelydepartedas managing director of the event, while ruangrupa published anopen letterexpressing their disavowal of all forms of discrimination and hitting back at what they cast as censorship.
Documenta's condemnation of the alleged social media support is unusual in that biennials typically don't call out their curators, and don't usually look backward: There are no plans for ruangrupa to be involved with future iterations of the event at this time. Documenta's post on the matter followed October 7's attack on Israel by Hamas militants, who fired rockets at Israeli towns, entered some, and took roughly 150 hostages by their own estimate. Israeli prime minister Benjamin Netanyahu the following day declared war on Palestine and began a "complete siege" of the Gaza Strip, launching airstrikes, shutting off water and power, and blocking access to food in the already blockaded area. To date, roughly 800 Israelis have died with some 2,400 wounded; at least 587 Palestinians have been killed, and another 3,700 injured, according to the respective entities' governments. Hoffmann labeled the content of the "liked" videos "intolerable and unacceptable,"Artnewsreports.
He noted as well that the individuals had since "unliked" the videos and "acknowledged them as mistakes.".