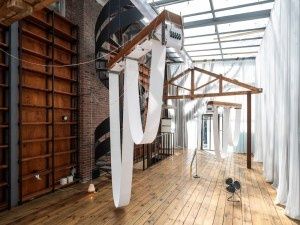 Kanagawa-born artist Yuko Mohri, known for her installations and sculptures centering "phenomena" that continually shift according to various conditions such as their environments, has been chosen to represent Japan at the Sixtieth Venice Biennale, to take place April 20–November 24, 2024. Mohri, who lives and works in Tokyo, recently expanded her practice to embrace video and photography. Her exhibition at the Japanese pavilion will be themed around crisis as the catalyst for human creativity.
Mohri in a statement cited theeffortsof two young climate change activists who tossed tomato soup over the glass protecting van Gogh's 1888Sunflowersat London's National Gallery in 2022 as an inspiration and also pointed to Tokyo railway workers' innovative use of mundane objects to plug leaks at various stations. She additionally mentioned the 2019floodingof Venice and the Covid-19 crisis beginning the following year as catalysts. "Sensing the beginning of a fresh era of response to global challenges," she said, "I want to present an innovative vision that opens a new path to the future."RelatedHELEN FRANKENTHALER FOUNDATION SUED FOR "DESTROYING" PAINTER'S LEGACYBMA CREATES PAID INTERNSHIPS HONORING VALERIE MAYNARD Organized by the Japan Foundation, the Japanese pavilion will be curated by Sook-Kyung Lee, who is senior curator of international art at London's Tate Modern.
Lee, who is artistic director of the Fourteenth Gwangju Biennale, which opened in April, will later this summer assume the role ofdirectorof the University of Manchester's Whitworth Art Gallery. "I have admired Yuko's work for some time, finding her choice of everyday, mundane materials and spatial configuration very interesting," said Lee. "Sound and music seem almost integral or embedded to their given spaces, rather than taking a central stage or overly exposed." Lee praised Yuko's contribution to the recently opened  Gwangju Biennale as a "significant" and "quietly powerful" work that "responded to the theme 'soft and weak like water' perfectly.
Her work makes us see not just objects but their environment and listen not only intended sound but its ambience and voids," Lee continued. "I am confident that Yuko will create a thought-provoking work for the Japan Pavilion in Venice in 2022.".