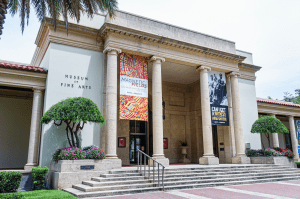 The Museum of Fine Arts, St. Petersburg, will see its executive director and CEO Anne-Marie Russell depart on March 1, 2024. TheTampa Bay Timesreports that Russell has already handed off her daily responsibilities to chief curator Stanton Thomas and chief strategy officer Darcy Schuller. She will "focus on collections stewardship and programming while continuing to advise the MFA on special projects" until her tenure expires next year. Russell arrived at the museum in September 2022 as interim director following the resignation of executive director and CEO Kristen Shepherd.
She undertook the role on a permanent basis last March.RelatedHELEN FRANKENTHALER FOUNDATION SUED FOR "DESTROYING" PAINTER'S LEGACYBMA CREATES PAID INTERNSHIPS HONORING VALERIE MAYNARD The Florida institution has been hemorrhaging staff in the past year. Among those who have left the institution are curator Michael Bennett, who organized an exhibition of ancient Greek artifacts that was set travel to the Denver Museum. However, curators therequestionedwhat they perceived to be the poorly documented provenance of many of the fifty-seven included objects. The Denver Museum declined to mount the show, and Bennett was ultimately fired from the St. Petersburg institution.
Jorge Vidal, the Florida museum's senior manager of special projects, left to assume the role of executive director at Florida CraftArt, also in St. Petersburg, while senior curator of photography Jane Aspinwall and her partner, Paul Churchill, the museum's lead preparator of exhibits, resigned. A replacement for Russell will be announced following a search conducted by the museum's board. TheTampa Bay Timesnoted that the institution's website currently lists artist talks and yoga programming through December, with only a single show on view, the recently opened "The Nature of Art." The Upcoming Exhibitions page is blank..