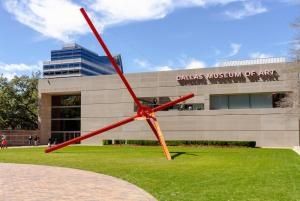 Citing disappointing attendance and a slow recovery from the Covid-19 crisis, the Dallas Museum of Art (DMA) late last month laid off twenty workers—roughly 8 percent of its employees—and reduced two full-time positions to part-time roles. The museum additionally announced that, beginning December 1, it would shutter on Tuesdays, which it characterized as poorly attended. DMA officials in a press release contended that the cuts were "difficult but necessary," and additionally spurred by inflation and a lack of government funding. Evidently unaffected by such factors is the museum's forthcoming planned expansion, which is to be paid for largely by private donors. Overseen by Madrid firm Nieto Sobejano Arquitectos, the effort is expected to cost between $150 million and $175 million, and will add galleries and improve wayfinding.
As well,Hyperallergicreports, the museum will seek $36 million from the city to restore its extant forty-year-old home and improve security there in the wake of a break-in last year in which historic and contemporary works were damaged.RelatedHELEN FRANKENTHALER FOUNDATION SUED FOR "DESTROYING" PAINTER'S LEGACYBMA CREATES PAID INTERNSHIPS HONORING VALERIE MAYNARD Of concern to employees are managerial salaries, including that of executive director Doroteo Agustin Arteaga, which rose from $597,597 in June 2020 to $641,014 in June 2022. The museum contends that employee salaries were similarly raised across the board during that time, and that top-rank compensation is in line with that at other US institutions. Also rising despite the pandemic,ArtnetNewsreports, are DMA's assets, which grew from roughly $266 million in 2019 to about $276 million in June 2022. Though the museum wound up its fiscal year ending June 2023 in the black, financial officials there are concerned about future deficits owing to a drop in investments held for endowment and net assets unattended by donor restrictions—that is, money that the institution is free to spend as it likes. "The expansion is a vital part of the DMA's plans for a sustainable future," the DMA toldArtnet News.
"Our forty-year-old building has outdated systems and infrastructure in need of repair. But most importantly, we need facilities that can better attract and serve audiences of today and the future, as well as accommodate our growing collection." "It's hard to trust anything that leadership says right now," an anonymous DMA staffer toldHyperallergic. "It feels like the people behind the jobs just don't matter as much as the numbers.".