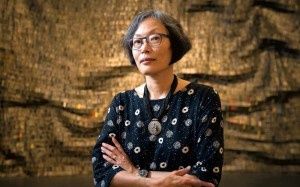 Eugenie Tsai, who since 2007 has served as senior curator of contemporary art at the Brooklyn Museum, on May 18 announced viaInstagramthat she is departing the institution. Tsai, who oversaw a number of important exhibitions during her tenure at the museum, named June 30 as her last day there. "All institutions are flawed, but I can't think of another museum where I would rather have spent the last 15 years," she wrote. "I love my colleagues, the artists I've had the privilege of working with, and the wonderful audiences served by the museum. I was fortunate to have stayed healthy and productive during the pandemic. Now I feel the need for rest and reflection."RelatedHELEN FRANKENTHALER FOUNDATION SUED FOR "DESTROYING" PAINTER'S LEGACYBMA CREATES PAID INTERNSHIPS HONORING VALERIE MAYNARD Tsaiarrivedto the museum from New York's P.S.1 Contemporary Art Center (now MoMA PS1), where she was director of curatorial affairs.
During her time at the Brooklyn institution, she gained a reputation for inclusivity and for having a sharp eye in regard to emerging artists. Among the shows she organized there were 2011's yearlong series "Raw/Cooked," showcasing the talents of emerging artists based in Brooklyn; a 2012 exhibition of the work of Mickalene Thomas; and a 2013 LaToya Ruby Frazier show. She was ahead of the curve on all three. Tsai also curated 2015's "Kehinde Wiley: A New Republic" and theblockbuster KAWS exhibitionof 2021. Her most recent show, a solo exhibition of work by twenty-four-year-old Asian American internet artist Oscar yi Hou, is on view through September 17 at the museum. Though Tsai was not specific regarding her future plans, she did acknowledge that she was not stepping away from the art world.
"After I recharge, my plans include new projects and revisiting some that have been on the back burner," she wrote, adding that she would be "taking a deep dive back into art and history.".