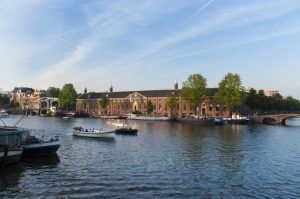 Three years after severing ties with Saint Petersburg's State Hermitage Museum in the immediate wake of Russia's invasion of Ukraine, the Hermitage Amsterdam is changing its name to the H'ART Museum, theNew York Timesreports. The rebranded institution will partner with three major international museums—Washington, DC's  Smithsonian American Art Museum, Paris's Centre Pompidou, and London's British Museum—to present exhibitions. Through separate contracts with the respective institutions, the new entity will variously borrow exhibitions, modifying some of them; as well, it will mount original exhibitions featuring works loaned by the collaborating institutions.RelatedHELEN FRANKENTHALER FOUNDATION SUED FOR "DESTROYING" PAINTER'S LEGACYBMA CREATES PAID INTERNSHIPS HONORING VALERIE MAYNARD "We're going to be like a museum for museums," said H'ART Museum director Annabelle Birnie. "Three partners will bring you a lot more than one." Inaugurated in 2004 as an overseas extension of the St. Petersburg institution, Hermitage Amsterdamopenedin 2009 in the former Amstelhof, a seventeenth-century building in the heart of the Netherlands' capital city.
The Amsterdam institution frequently borrowed from the holdings of the Russian museum's vast collection to mount exhibitions. At the time of the dissolution of its connection with the Saint Petersburg institution, the Hermitage Amsterdam was in the midst of a collaborative exhibition of Russian avant-garde art, featuring the work of Kazimir Malevich and Wassily Kandinsky. The show closed early, costing the Amsterdam institution an estimated $2 million. In the years following, the museum struggled to find a new identity, and new sources of artworks, even as Dutch institutions across the country assisted it through high-profile loans. The H'ART Museum will begin operating under its new name September 1.
The institution has contracted with the Pompidou—to collaborate on five exhibitions over five years at the H'ART. The inaugural show resulting from this agreement will be a 2024 exhibition of works by Kandinsky belonging to the French museum, which itself is slated toshutterin 2025 for at least five years for a major renovation. The H'ART will stage three exhibitions apiece in collaboration with the Smithsonian and the British Museum over a span of six years. A full schedule is expected to be released in the fall..