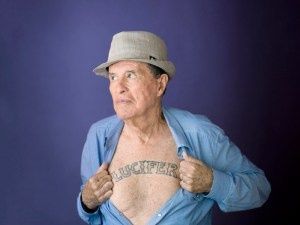 Pathbreaking experimental filmmaker Kenneth Anger, whose brief, surrealist homoerotic films continue to exert a profound influence on contemporary culture, died May 11 at the age of ninety-six. His death, in an assisted living facility in Yucca Valley, California, was announced by the gallery Sprüth Magers, which represents him. In addition to his filmic oeuvre, Anger, who was also an actor, an artist, and an author, was widely known for the bestsellingHollywood Babylon, a breathtakingly sleazy compendium of secondhand gossip centering around the brightest movie stars of the early twentieth century. Instrumental in the development of such disparate experimental giants as Stan Brakhage and David Lynch, Anger's work directly presaged MTV in its wedding of popular music to vibrant, titillating images. "While his films .
. . defied Hollywood practice and themes, they also drove right into the shimmering, illuminated moving images that undergird the Dream Factory," wrote Tom Gunning in a 2007 issue ofArtforum."Hisdétournementof Hollywood tropes helped Pop art emerge from the biting irony entwined with affection that defined American homosexual camp culture."RelatedHELEN FRANKENTHALER FOUNDATION SUED FOR "DESTROYING" PAINTER'S LEGACYBMA CREATES PAID INTERNSHIPS HONORING VALERIE MAYNARD Kenneth Anger was born Kenneth Anglemyer on February 3, 1927, the youngest of three children in a middle-class Presbyterian family headed by a father who was an electrical engineer at Douglas Aircraft. A late arrival on the scene compared with his siblings, Anger struggled with his home life from an early age. "My siblings hated me because I was the artist," he toldThe Guardianin 2013.
"I had a bitchy older sister, Jean, who identified me not by Kenneth but by BCA–Birth Control Accident." Young Kenneth's grandmother introduced him to the cinema, and he made his first film in 1937 at the age of ten, using 16-mm scraps left over from a family vacation. In 1947, having moved out of the family home and changed his name, Anger made the first of nine films that would come to be known collectively as the Magick Lantern Cycle (1947–72), the incendiaryFireworks.The 14-minute short—in which he is beaten by a group of sailors, one of whom unzips his own pants to reveal a lit Roman candle—earned him the attention of sexologist Alfred Kinsey, and the pair struck up an enduring friendship. Ten years later,Fireworkswould figure in a landmark California Supreme Court ruling, after distributor Raymond Rohauer was slapped with an obscenity charge for showing the film in an LA theater. The court ruled that homosexuality was a reasonable subject for artistic expression, and labeledFireworksa work of art rather than one of pornography. Consistently plagued by a lack of funds, Anger produced work at a halting rate of speed, often beginning ambitious projects and then truncating them as circumstances dictated.
"I had to tailor my dreams to fit my budgets," he told Harmony Korine in a 2014 issue ofInterview. Puce Moment, of 1949, for example, was inaugurated under the titlePuce Women, and instead of showing various Hollywood silent film goddesses in their homes, featured Anger's cousin Yvonne Marquis playing such a creature. Still other films remained unseen altogether, among them 1949'sThe Love That Whirls, which was destroyed by lab technicians displeased with its unclothed portrayals of Aztec sacrifice. Among the best known of Anger's films, apart fromFireworks, are the others which make up the Magick Lantern Cycle, among themInauguration of the Pleasure Dome(1954). The film saw Anger, who maintained a lifelong interest in Satanism, exploring Thelema, the occult spiritual philosophy founded by Aleister Crowley.Scorpio Rising(1963), which sets the hell-raising activities of a group of leather-clad motorcycle riders to a rich soundtrack of then-current artists including the Angels, Ricky Nelson, Elvis Presley, and Bobby Vinton, formed the template for the music videos that would populate MTV twenty years later.
LikeFireworks, it brought down an obscenity charge, this one for Michael Getz, manager of L.A.'s Cinema Theater. Getz was found guilty but successfully appealed.Invocation of My Demon Brother(1969) featured Mick Jagger, Church of Satan founder Anton LaVey, and Manson family member Bobby Beausoleil; that film was said to be made from the scraps ofLucifer Rising. Starring Marianne Faithfull and technically finished in 1972, the film did not see wide distribution until 1980, owing to the delay on the part of Beausoleil, by then imprisoned for the murder of Gary Hinman, in delivering the soundtrack. Having penned the originalHollywood Babylonin 1959 out of a desperate need to make money, Anger returned to the well in 1984 withHollywood Babylon II. Whereas the initial volume was initially published in France and banned in the US for over a decade, owing to its lurid content—in it, Anger alleged that Walt Disney was addicted to opiates and that movie idol Rudolph Valentino was fond of subbing for dominant women—the sequel encountered no such trouble and was gleefully received.
Anger said that he had created a third volume by the time of his death, but that it was shelved owing to a juicy chapter centered on Tom Cruise and Scientology. Though he dropped out of filmmaking in the latter part of the twentieth century, Anger in the 2000s had returned to making short films, among themPatriotic Penis(2004), which foregrounded shots of Mickey Mouse memorabilia dating to the 1920s and '30s against a contemporary jazz soundtrack, and a brief clip forMissoniin 2010, which Artnet described as "notably light on the seediness." Anger was sanguine regarding the prospect of his own death. "Either it's just a black curtain . . .
I mean, life is interesting enough," he told Korine. "You don't need something after. It'd be nice if there is—nearly all the cultures imagine some kind of heaven, but it could just be wishful thinking. Then, to counter the heaven, they've imaged a hell. And often the hell thing is more interesting.".