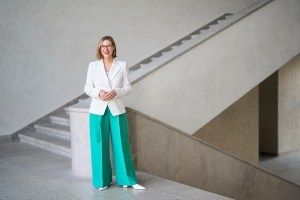 Los Angeles–born curator Elena Filipovic has been named as the next director of Kunstmuseum Basel. Filipovic arrives to the institution from Kunsthalle Basel, where she has served as directorsince 2014; she was the first woman ever to lead that museum in the 150 years since its founding. She will step into her new role no later than June 1, 2024, in the meantime retaining her position at Kunsthalle Basel. Filipovic succeeds Joseph Helfenstein, who has helmed the museum since 2016 and is retiring. Deputy director Anita Haldemann will act as interim director, with assistance from museum management, should a gap occur between Helfenstein's departure and Filipovic's arrival.RelatedHELEN FRANKENTHALER FOUNDATION SUED FOR "DESTROYING" PAINTER'S LEGACYBMA CREATES PAID INTERNSHIPS HONORING VALERIE MAYNARD "Elena Filipovic convinced the committee with her vision regarding the future of our museum as well as her professional track record, her leadership skills and her infectious enthusiasm for the entire range of art history, which enables her to make the arts attractive to people from all walks of life," said Felix Uhlmann, chairman of Kunstmuseum Basel's art committee, in a statement. In her new role, Filipovic will have care of the Kunstmuseum Basel's three venues: Hauptbau (Main Building), Neubau (Extension) and Gegenwart (Museum of Contemporary Art).
While at Kunsthalle Basel, Filipovic oversaw more than sixty exhibitions, among them major surveys of artists including Michael Armitage, Dora Budor, Matthew Angelo Harrison, Yngve Holen, Anne Imhof, Deana Lawson, Wong Ping, Andra Ursuta, Raphaela Vogel, Anicka Yi, and Lynette Yiadom-Boakye. Prior to assuming directorship of the Kunsthalle Basel, Filipovic for five years served as senior curator at Wiels (then Wiels Contemporary Art Center) in Brussels. In 2022, she organized the Croatian Pavilion at the Fifty-Ninth Venice Biennale, and from 2009 to 2011, she oversaw the Satellite program at Paris's Jeu de Paume. In 2008, with Adam Szymczyk, she cocurated the Fifth Berlin Biennale. Filipovic also curated a number of traveling retrospectives, among them "Felix Gonzalez-Torres: Specific Objects Without Specific Form" (2010) and "Marcel Duchamp: A Work that Is Not a Work of 'of Art'" (2008). She obtained her Ph.D.
from Princeton University. "The art historian in me couldn't be more thrilled and also more deeply honored by the opportunity to lead one of the world's great art museums in a city that is so strongly committed to the arts, and thereby continue the remarkable work carried outby Josef Helfenstein," said Filipovic. "I very much look forward to this new task of shaping the museum's future so that its rich history and unrivaled collection remain alive in the public awareness with new content and narratives. As someone who believes fundamentally in the vital civic role of museums, it is exhilarating to reflect on the Kunstmuseum Basel and its possibilities, and importantly also on how it can respond toa world that is becoming ever more complex.".