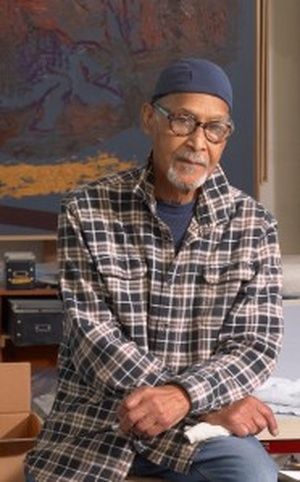 The Pollock-Krasner Foundation revealed that it would award grants totaling nearly $2.7 million to ninety-three artists and nonprofit organizations around the world. The recipients represent fifteen countries and fourteen states and territories. The grants are meant to provide artists and organizations with professional support, enabling them to create new work, purchase materials, rent studio space, prepare for and mount exhibitions, and attend residencies. Funds may also be used to offset living expenses.
The 2022–23 Lee Krasner Award for lifetime achievement this year went to Oakland, California–based painter, sculptor, printmaker, and draftsman Oliver Lee Jackson. The St. Louis native is being honored for his innovative work, which treads the line between figuration and abstraction, as well as for his support of African American artists over his six-decade career. Jackson has taught art, philosophy, and Pan-African Humanities at St.
Louis Community College, Southern Illinois University, Washington University in St. Louis, Oberlin College, and California State University, Sacramento.RelatedHELEN FRANKENTHALER FOUNDATION SUED FOR "DESTROYING" PAINTER'S LEGACYBMA CREATES PAID INTERNSHIPS HONORING VALERIE MAYNARD Pakistani American artist Shahzia Sikander earlier this year was announced as the recipient of the 2023 Pollock Prize for Creativity for her multimedia exhibition "Havah…to breathe, air, life." Exploring issues of women and justice, the exhibition appeared this past spring at Madison Square Park in New York before traveling to Houston in June. Brooklyn-based artist María Elena González received both a Pollock-Krasner Foundation grant and the Brian Wall Foundation Grant for Sculptors. The $25,000 prize recognizes an exceptional sculptor and is awarded by the Brian Wall Foundation and administered by the Pollock-Krasner Foundation.
The organization annually provides funding to organizations that engage directly with artists. Among this year's recipients are New York's ArtTable, in aid of its Artist Talk Series; the Buffalo AKG Art Museum, in support of PKF grantee Stanley Whitney's retrospective monograph; Laguarres, Spain's Villa Bergerie, for residency program expenses; and Bronx, New York's Wave Hill, in support of artist residency and exhibition expenses. The complete list of 2022–23 recipients is below. Pollock-Krasner Foundation 2022–23 Artist Grantees Isabel Aguera, Montreuil, France Ian Andrews, Birmingham, England Miguel Arzabe, Oakland, CA Rogelio Báez Vega, San Juan, PR Joan Bankemper, New York Yevgeniya Baras, Long Island City, NY Jagoda Bednarsky, Berlin Anna-Sophie Berger, Brooklyn, NY Laura Bielau, Berlin Vicente Blanco, Lugo, Spain Renée Bouchard, Bennington, VT Sarah Cale, Brussels Josely Carvalho, Hoboken, NJ Sydney Cash, Marlboro, NY Sofía Clausse, London Armen Daneghyan, Yerevan, Armenia Josh Dorman, New York Ben Durham, Richmond, VA Karina El Azem, Buenos Aires Rehab El Sadek, Austin Sarah Faux, Brooklyn, NY Alanna Fields, Upper Marlboro, MD Avram Finkelstein, Brooklyn, NY Emanuela Fiorelli, Rome Linda Fleming, Benicia, CA Farima Fooladi, Spring, TX Bernhard Fuchs, Düsseldorf Bastian Gehbauer, Berlin Ina Gerken, Düsseldorf Nicola Ginzel, Brooklyn, NY María Elena González, Brooklyn, NY Jesús Hdez-Güero, Madrid Alex Heilbron, Los Angeles Mary Henderson, Philadelphia Hong Hong, Beverly, MA Patricia Hurl, Roscrea, Ireland Oliver Lee Jackson, Oakland, CA Bethany Johnson, Austin Yongjae Kim, Brooklyn, NY Felix Kultau, Berlin Elvira Lantenhammer, Triefenstein, Germany Georges Le Chevallier, Garner, NC Kakyoung Lee, Brooklyn, NY Miguel Ángel Madrigal, Morelos, Mexico Junko Maruyama, Yokosuka, Japan Christina Massey, Brooklyn, NY Miroslaw Maszlanko, Rychliki, Poland Rita McBride, Los Alamos, CA Gideon Mendel, London Jeffrey Meris, New York Mark Milroy, Brooklyn, NY Nicholas Moenich, Brooklyn, NY Bidemi Oloyede, Toronto Ingrid Olson, Chicago Steve Parker, Austin Aviva Rahmani, Vinalhaven, ME Rachel Rotenberg, Tekoa, Israel Jayanta Roy, Kolkata Frauke Schlitz, Stuttgart Davide Sgambaro, Turin Dee Shapiro, Great Neck, NY Shahzia Sikander, New York Cary Smith, Farmington, CT Tracey Snelling, Berlin Cammie Staros, Los Angeles Kazumi Tanaka, Beacon, NY Yukiko Terada, Berlin Cheryl Ann Thomas, Ventura, CA Francine Tint, New York Sara VanDerBeek, Brooklyn, NY Madhu Venugopalan, Ernakulam, India Patrick Waterhouse, London Chuck Webster, Ridgewood, NY Birgitta Weimer, Gummersbach, Germany Ellen Wetmore, Groton, MA Richard C.
Whitten, Cranston, RI Kevin Wixted, New York Ralf Ziervogel, New York Matthias Zinn, Berlin Pollock-Krasner Foundation, 2022–23 Organization Grantees ArtTable, New York: support for its Artist Talk Series Artadia, Brooklyn, NY: funding for artist award grant Bronx Museum of the Arts, Bronx, NY: support for Artist in Marketplace Program Buffalo AKG Art Museum, Buffalo, NY: support for PKF Grantee Stanley Whitney Retrospective monograph support Fine Arts Work Center in Provincetown, Provincetown, MA: residency program support MacDowell, New York: support for its residency program New York Foundation for the Arts, New York: funding for online resources for artists SculptureCenter, Long Island City, NY: funding for In Practice Program The Pollock-Krasner House and Study Center, East Hampton, NY: funding for program support Villa Bergerie, Laguarres, Spain: funding for residency program Wave Hill, Bronx, NY: support for its artist residency and exhibition program Whitechapel Gallery, London: funding for the exhibition "Action, Gesture, Paint: Women Artists and Global Abstraction 1940–70" Yaddo, Saratoga Springs, NY: residency program funding.