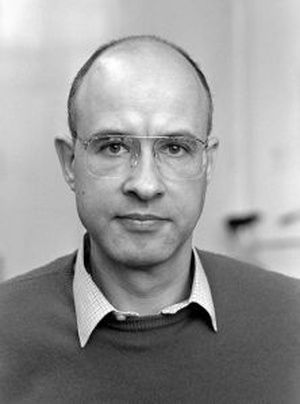 German painter Konrad Klapheck, who blended Surrealism and Pop to arrive at eroticized images of machines, died July 30 in Düsseldorf at the age of eighty-eight. He had managed Parkinson's disease for several years. Klapheck gained acclaim for his depictions of such objects as industrial machinery, technical equipment, and office accoutrements. Rendered in tremendous detail at typically large scale and devoid of all but the simplest backgrounds, these otherwise unremarkable items appeared strangely sensual. "What makes Klapheck's pictures compelling is the way the objects he paints are psycho-erotically animated," wrote Ken Johnson in a 1994 issue ofArt in America."His machines .
.
. are like primitive totems . . .
monumental, amusingly absurd and sexually suggestive."RelatedHELEN FRANKENTHALER FOUNDATION SUED FOR "DESTROYING" PAINTER'S LEGACYBMA CREATES PAID INTERNSHIPS HONORING VALERIE MAYNARD Konrad Klapheck was born in Düsseldorf on February 10, 1935. His parents were both art historians and professors; shortly before his birth, Klapheck's father lost his teaching job at the Kunstakademie Düsseldorf after the Nuremberg laws went into effect.
He died in 1939, when his son was just four years old. In 1954, Klapheck enrolled at his father's former place of employment and studied there for two years under Bruno Goller, absorbing the work of Dada pioneers Marcel Duchamp, Man Ray, and Max Ernst as well as that of Surrealists René Magritte and André Breton. Initially working in a magical realist style, Klapheck struck out in a then-uncharted direction, initially evincing a particular fondness for the typewriter.
Over the years, his interests—and his paintings—shifted focus to, variously and in succession, sewing machines, spigots and showers, telephones, irons, shoes, keys, saws, car tires, bicycle bells, and clocks. He awarded works depicting these various objects anthropomorphizing titles likeThe Fanatic,Precocious Girl, andThe Potentate. Humanizing and evocative, these titles had the effect of further distancing and monumentalizing his paintings while drawing the viewer closer out of her keen desire to discern the connection between name and named.
Klapheck saw the objects he painted as individuals, as players on a broader stage who might interact once brought together. "It was .
. . like classical theater, with different [archetypes]," he told theHarvard Art Museumsin 2018, "the stingy father, the generous mother, the beautiful and sometimes cruel daughter of the stingy father, and so on." In the 1990s, Klapheck turned from machines to people, initially painting friends and colleagues, and then branching out to subjects including nude models and jazz musicians. "In Klapheck's own estimation," wrote Dieter Roelstraete in a 2012 issue ofArtforum, "his choice of imagery was never simply an either/or matter, with man and machine occupying opposing extremes of the pictorial-thematic scale.
Even if his machines were never conventionally anthropomorphic," he continued, "the human subject, however absent as a form, was always present as the ghost in these various machines." In addition to his career as a painter, Klapheck served as a professor at the Kunstakademie Düsseldorf from 1979 to 2002.
His work is held in the collections of the Fine Arts Museum, San Francisco; the Cleveland Museum of Art; the Museum of Modern Art, New York; Harvard Art Museums, Massachusetts; the Ludwig Museum of Contemporary Art, Budapest; and Von der Heydt Museum, Germany, among other institutions..
.