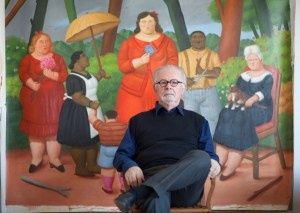 Colombian painter and sculptor Fernando Botero, whose whimsical, ballooning figures gained him worldwide acclaim and elevated the global profile of Latin American art, died in Monaco on September 15 at the age of ninety-one. The cause, according to his close friend Mauricio Vallejo, a co-owner of Houston's Art of the World gallery, was complications of pneumonia. Botero's crowd-pleasing works typically played with volume and scale—a rotund woman might smoke a miniature cigarette through tiny pursed lips; a hugely curving mandolin might feature a diminutive sound aperture—and commented on subjects ranging from wealth and greed to sensuality and pleasure to human rights atrocities.
His massive, rounded sculptures, with their welcoming mien, grace some of the world's most famous thoroughfares, from New York City's Park Avenue to Paris's Champs-Élysées. "I believe I was elected to do this work,"he toldArtforum's Ingrid Sischyin 1985. "I didn't choose to make art the way I do with the idea of astonishing people.
Such a notion would quickly turn into a cliché and lose the ability to touch honestly and communicate personally and directly, which is what I'm trying to do."RelatedHELEN FRANKENTHALER FOUNDATION SUED FOR "DESTROYING" PAINTER'S LEGACYBMA CREATES PAID INTERNSHIPS HONORING VALERIE MAYNARD Fernando Botero Angulo was born in Medellín on April 19, 1932, the middle of three sons. His father, a salesman who traveled horseback, died when Botero was four, leaving his mother, a seamstress, to raise the couple's young family. An uncle took an interest in Botero and sponsored his attendance at matador school, which he hastily left when he was finally presented with the opportunity to face off against a live bull.
He attended a Jesuit high school on a scholarship, but was expelled for penning a glowing essay on the work of Pablo Picasso, which the priests at the school deemed irreligious. At the age of sixteen, he saw his first work published, in the Sunday supplement of the popular Medéllin dailyEl Colombiano. On his graduation from public high school, he worked for two years as a set designer before moving to Bogotá in 1951.
Within months of arriving in the capital city, he received his first solo show. He traveled for the next several years, living in Madrid, Paris, and Florence before returning to Colombia in 1955. The following year, he moved to Mexico City.
There, he realized his signature style, which would come to be known widely as Boterismo. Botero's tremendous rotund forms, frequently attended by minuscule figures such as an observing frog or a spiraling butterfly, generated a warmth that gratified viewers and horrified critics. New York curator Dorothy Miller purchased his 1959 paintingMona Lisa, Age Twelvein 1961 for the Museum of Modern Art, where it hung in contrast to the original da VinciMona Lisabeing shown uptown at the time.
"They hung it in a great position, and it received tremendous comment," Botero told Sischy. "After that my work was seen a little, but my first big gallery show was not until 1972. This was the last time I received serious critical response from the New York press.
From then on when I did shows there was complete silence. It was like I was a leper. One critic in particular came to see my work and had to stand in front of it without looking because he said it made him sick.
From the public I got the opposite attention." Botero in the 1970s expanded his oeuvre to include sculpture, something he had attempted a decade previous but had not been able to afford, working this time in bronze, marble, and cast iron, rather than the acrylic and resin he had been forced to use on his first attempts. Owing to the monumental size and smooth, curving forms of these works, they soon became highly sought after by cities, corporations, and institutions looking for public works. Having lived in New York since the 1960s, Botero eventually decamped for Paris, returning regularly to Colombia, but only for a month at a time, as unrest generated by the drug trade gripped the country from the 1980s onward.
The artist in the early aughts made cartel violence the subject of a number of works that heralded the 2005 series that would finally garner him critical acclaim. This was a group of works depicting the torture by Americans of prisoners at Abu Ghraib in Iraq. Botero here placed his plump figures in terrible positions: The result was the humanization of people that had long been cast as animals by the US media, government, and military.
Botero in 2000 donated more than a hundred of his own works as well as a large portion of his collection including works by Picasso, Marc Chagall, Robert Rauschenberg, and various French Impressionists to Colombia's Central Bank, which used them to establish the Museo Botero in Bogotá; he gave a number of works to the Antioquia Museum in his hometown of Medellín at this time as well. Hedonatedthe Abu Ghraib works to the University of California, Berkeley, in 2007. With his gifts, as with his art, Botero once again had the viewer in mind.
"The donation I made to Colombia from my collection, and from many of my works, is one of the best ideas I ever had in my life," he told the Huffington Post in 2015. "The public's enjoyment is the best reward.".