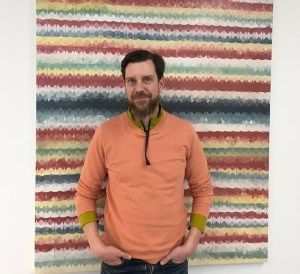 The Des Moines-based Alex Brown Foundation has announced the five participants of its 2024 residency program. Fatma Belkıs, Woohee Cho, Mark Joshua Epstein, Anjan Modak, and Rodriguez Remor, a collective comprising Denis Rodriguez and Leonardo Remor, will each occupy Brown's former studio in the nonprofit Mainframe Studios, a refurbished 1970s telecom building near downtown Des Moines. The residencies are flexible, varying in length from one to three months, with participants receiving lodging, airfare, and a $1,000 monthly expense allowance.RelatedHELEN FRANKENTHALER FOUNDATION SUED FOR "DESTROYING" PAINTER'S LEGACYBMA CREATES PAID INTERNSHIPS HONORING VALERIE MAYNARD Belkıs, who lives and works in Istanbul, uses text, video, and printed matter to examine personal relationships, both romantic and platonic, and how those intersect with the larger dynamics of public political engagement. She is currently at work on an installation and publication titledYour Worst Friend, which looks at the impact of childhood experience on adult relationships. In Des Moines, she will work onOverreaction, a piece of docu-fiction exploring rage and fear.
The Seoul-born Cho, who is currently based in Los Angeles, is a visual artist, experimental filmmaker, and performer. His current work,10987YOU654ME32US1, interrogates the ways tech companies announce new products using numbers, giving the illusion of progress and objectivity, while also employing personalized messaging. During his residency, Cho intends to explore aspects of queer intimacy through various lenses. Epstein, a painter living in Ann Arbor, Michigan, investigates queer ornament and graphic excess through the lens of cultural inheritance. In Des Moines, he will explore the history of Jewish immigration to Iowa dating back to the mid-ninteenth century, developing work that draws on influences of Eastern European Jewish design motifs adorning local architecture and shown in photographic documentation of buildings in the region.
The West Bengal, India–born Modak lives and works in Kolkata, where he creates large-scale works centering the lives of urban manual workers, such as migrant construction laborers. Primarily drawing on paper, using densely spaced lines and minimal color, Modak foregrounds blank fields in his works as representative of the spaces occupied by those denied a place in history. He will use his time in Des Moines to continue this project within a new context. Rodriguez Remor, a pair of artists, researchers, and curators living in Bahia, Brazil, bring to bear a critical view of coloniality; often working in clay, they seek to expand concepts of sustainability beyond the logic of consumption and productivity and in support of alternative modes of living. During their residency, they will continue recent work delving into Indigenous North American material culture and ceramic traditions. The residency program was establishedin 2020 in honor of Brown (1966–2019), a Des Moines native who established his career as a painter and as a guitarist in hardcore bands Gorilla Biscuits, Side by Side, and Project X in New York before returning to his hometown to work there over the course of two decades.
The residency welcomes artists working across all forms of media and in various stages of their careers. Participants are not required to produce work, but only to experience "the working conditions Brown found in Des Moines—the ability to make the work you want to make, free from the daily influence of being immersed in a major metropolitan scene but without the isolation of a rural residency, in an exceptional studio environment and a relaxed and pleasant living environment," according to a foundation press release..