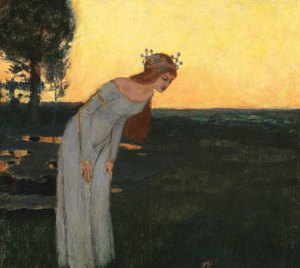 A technical staffer at Munich's Deutsches Museum has been sentenced to a year and nine months in prison for stealing paintings from his employer, replacing them with crude forgeries, and selling the originals through one of the city's auction houses. The worker—identified only by his initials, S.K., in accordance with German privacy law—used the proceeds to purchase luxuries including an apartment, a Rolls Royce, and pricey watches. Hired by the Deutsches Museum in 2016, when he was in his early twenties, S.K. departed the institution in 2018. In the intervening two years, he first stole and sold Franz von Stuck's 1891The Fairy Tale of the Frog King.
The painting, which he told the auction house had belonged to his great-grandparents, fetched €70,000 ($74,000). He afterward stole and sold Eduard von Grützner'sThe Winetastingand Franz von Defregger'sTwo Girls Collecting Wood in the Mountains, which together brought in about $12,500. The larcenous laborer lifted a second work by Defregger,Dirndl, but was unable to unload it through his usual auction house or through a second one, though he lowered the bidding price to roughly $3,200.RelatedHELEN FRANKENTHALER FOUNDATION SUED FOR "DESTROYING" PAINTER'S LEGACYBMA CREATES PAID INTERNSHIPS HONORING VALERIE MAYNARD The Deutsches Museum is a major scientific and technical institution, and does not typically display art. However, numerous collectors have donated works to the museum, where they generally remain in storage, attracting little attention. The theft was discovered by an in-house appraiser who in the course of his research noted that the image in the catalogue he was looking at did not match the work before him on the bench, though the latter, a "clumsy" copy, appeared in the correct frame.
The museum subsequently inventoried its collection and uncovered the other missing works. S.K.'s prison sentence was commuted, and he was ordered to pay back the roughly $63,000 he gained from the thefts and sales. The court's lenience rested on the fact that he had no prior criminal record and was extremely contrite. Whether he created the forgeries himself is not known..