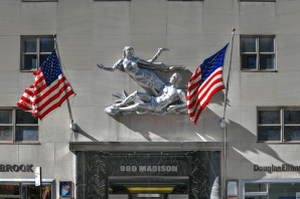 Charitable organization Bloomberg Philanthropies is set to displace global blue-chip megagalleryGagosianfrom 980 Madison Avenue, its home of more than three decades on Manhattan's Upper East Side,Artnet Newsreports. Bloomberg Philanthropies—which was founded by billionaire businessman Michael Bloomberg in 2006 to address issues including climate change, education, and public health—has reportedly signed a thirty-year lease with the building's owner, RFR Holdings, that would see it occupying 85 percent of the 1949 structure through July 2053. The deal is said to be all but done, pending final approval from a mezzanine lender.RelatedHELEN FRANKENTHALER FOUNDATION SUED FOR "DESTROYING" PAINTER'S LEGACYBMA CREATES PAID INTERNSHIPS HONORING VALERIE MAYNARD Gagosian began renting offices at the tony address, identifiable by the sixteen-foot-wide aluminum sculpture of Venus that graces its doorway, in 1987. The gallery expanded there in 1989, spreading across several floors and, according to a 2021Real Dealreport, occupying 42 percent of the building.
It has remained an anchor tenant since, with the result that numerous other galleries have opened in the building in the ensuing decades, among them Edward Tyler Nahem Fine Art, Nahmad Contemporary, Robilant+Voena, and Yoshii Gallery. All will be sent packing when Bloomberg Philanthropies moves in, shelling out a whopping $21.4 million annually for the second through sixth floors of the six-story edifice once fully ensconced. The foundation will move in incrementally, as the leases of the current tenants expire, gaining occupancy of 70 percent of the building by year-end 2025. Bloomberg Philanthropies' takeover of the building comes as the neighborhood is enjoying a resurgence in popularity among art-world insiders, most notably embodied by auction giant Sotheby's $100 millionpurchaseof the iconic Marcel Breuer building farther down Madison that housed the Whitney Museum of American Art for decades, subsequently hosting the Met Breuer and serving as the temporary home of the Frick Collection.
Though the real estate market  in New York is overheated, office space is plentiful, having in many cases remained vacant following the pandemic, and the occupants of 980 have a good chance of landing on their feet. "Obviously this will take some adjustment," Larry Gagosian toldArtnet News, "but I am happy to say that we are in the process of securing a great new location in the neighborhood.".