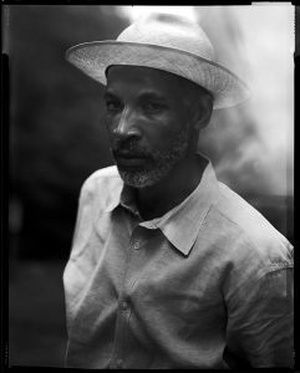 Atlanta-based artist Radcliffe Bailey, whose transformative sculpture, paintings, and installations explored the historical experience of African Americans, died at the home he built with his own hands on November 14 at the age of fifty-four after managing brain cancer.Newsof his death was confirmed by his brother Roy Bailey and by Jack Shainman Gallery, which represented him. Bringing to bear influences such as religion, music, baseball, slavery, and Atlanta's rich history pertaining to both the American Civil War and the civil rights movement of the 1960s, Bailey deployed a wide range of objects, from old family photos to piano keys, to create what he called "medicine cabinet sculptures." These installations, frequently sprawling in size, commented on issues of race, ancestry, and Southern history while remaining at once intensely personal and broadly accessible. Bailey's canon "collapses the personal and shared, then and now, material and meaning," wrote Emily Taub Webb in 2011 inArtforum.RelatedSFMOMA CUTS 20 JOBS AMID ATTENDANCE WOESJOE TILSON (1928–2023) Radcliffe Bailey was born November 25, 1968, in Bridgeton, New Jersey. His father was a railroad engineer and his mother a schoolteacher; both traced their roots back to the Underground Railroad, via which their own predecessors had traveled from the South to New Jersey.
At the age of four, Bailey moved with his family to Atlanta, where he gained a youthful interest in art thanks to childhood trips to the city's High Museum of Art. Passionate as well about music and baseball, he pursued the latter as a semipro player following his graduation from Benjamin E. Mays High School. Lacking the body type necessary to go further in the sport, he quit after a single season and enrolled in the Atlanta College of Art, where he studied sculpture.
Bailey graduated in 1991. Initially drawn to the concept of large outdoor installations, he nevertheless started his career making paintings, which were well received: TheAtlanta Journal-Constitutionin 1994 anointed him the city's "most promising young artist." Uneasy with labeling himself, Bailey was soon looking for a way to expand his practice. "I believe I have many different people inside of me—it's just as if I had many different types of artists in me," he told toldArtforumin a 2013 interview. "I like to almost act as if they all exist." He soon shifted to the sculptural installations for which he would become widely acclaimed. Among the best-known of these is his 2009–11 installationWindward Coast, 35,000 piano keys stripped from four hundred instruments and fashioned into crashing waves, atop which float a glittering black head and, farther beyond, a sparkling black ship.
The work, which conjures the forced migrations of Africans to America across the Middle Passage, is soundtracked by tones emitting from a single conch shell; both the wooden sea and the resonant noises are meant to channel the ocean's churn as well as music's power to transport. A 2019 workNommo, a re-creation of a slave ship's hull attended by a jazz score and sounds of waves and shipbuilding, mined a similar vein. Sound for Bailey, a longtime jazz fan, was a crucial element of his art. "[My work is] more about sound," he toldArtforum.
"I'm always curious about the music that was playing during times of slavery." Besides exhibiting widely, Bailey was charged with a number of public commissions. Perhaps chief among these isSaints, a forty-foot-long mural at Atlanta's Hartsfield-Jackson International Airport featuring photos of his family and commissioned for the 1996 Summer Olympics. Bailey also designed a concrete amphitheater for the city's Cascade Nature Preserve, where plays and concerts are held. An educator, he taught at the University of Georgia's Lamar Dodd School of Art from 2001 to 2006.
Bailey's work is held in the collection of institutions including the Denver Art Museum; the Nelson-Atkins Museum of Art, Kansas City, MO; the Art Institute of Chicago; the Museum of Fine Arts, Houston; the High Museum of Art, Atlanta; the Metropolitan Museum of Art and the Studio Museum in Harlem, both in New York; the National Gallery of Art and the Smithsonian Museum of American Art, both in Washington, DC; and Duke University's Nasher Museum of Art in Durham, NC. Despite his brain cancer diagnosis earlier this year, Bailey continued to make work until close to the end of his life. "A friend told me once to always consider myself a student," he toldArtnewsin June. "Always consider yourself emerging.
That's what I'm doing.".