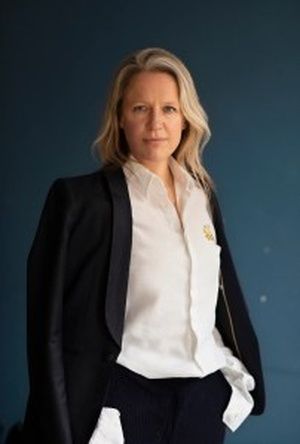 Art Basel has announced that Maike Cruse, since 2013 the director of Gallery Weekend Berlin, will serve as the first-ever director of its Swiss fair. Cruse will take up her new role July 1, shortly after the 2023 iteration of the annual summer event ends its mid-June run. She will be tasked with leading the Basel team responsible for mounting the fair, and with overseeing its attendant network of galleries, collectors, and commercial partners.
"Maike knows the art world intimately and has deep relationships with our global community of galleries, collectors, and institutional audiences, having been at the helm of art fairs and Gallery Weekend Berlin for many years," said Art Basel CEO Noah Horowitz in a statement. Cruse was Art Basel's communications manager from 2008 to 2011. She is the third director Horowitz has hired to take charge of the organization's various fairs since hereturnedto take the reins from longtime Art Basel CEO Marc Spiegler in October 2022.
The company last yearappointedClément Delépine as director of itsnewly createdParis+ fair and tapped Angelle Siyang-Le to lead Art Basel Hong Kong. The organization is currently hunting for a director to oversee its Art Basel Miami Beach fair.RelatedHELEN FRANKENTHALER FOUNDATION SUED FOR "DESTROYING" PAINTER'S LEGACYBMA CREATES PAID INTERNSHIPS HONORING VALERIE MAYNARD Cruse is well known in the Berlin art world, having ledArt Berlin Contemporaryfrom 2012 to 2016 and its successor, Art Berlin, from 2016 to 2019, when itshutteredowing to financial setbacks. She has also held roles at KW Institute of Contemporary Art and the Berlin Biennale.
"I have attended every edition of Art Basel in the last nearly twenty years and I have consistently been in active exchange with the fair as director of Gallery Weekend Berlin," said Cruse in a statement. "I am truly honored to lead this pre-eminent show in the art and culture city of Basel, to steer its next chapter and contribute to Art Basel remaining the most important platform for galleries worldwide.".