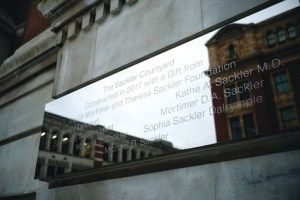 The United States Court of Appeals for the Second Circuit on May 30 ruled that members of the Sackler family connected with disgraced drug maker Purdue Pharma—and whose name longadornedmajor museums worldwide—may pay $6 billion in exchange for personal protection from current and future civil suits centered around the company's aggressive marketing of the powerful opioid OxyContin. The ruling, which affords the family members the type of protection typically awarded to companies filing for bankruptcy, rather than to individuals, does not shield them from future criminal suits connected to the highly addictive painkiller.RelatedHELEN FRANKENTHALER FOUNDATION SUED FOR "DESTROYING" PAINTER'S LEGACYBMA CREATES PAID INTERNSHIPS HONORING VALERIE MAYNARD Sackler family members who owned Purdue had for years sought personal immunity in relation to the woes of the Stamford, Connecticut–based company. Purdue filed for bankruptcy in 2019 under the weight of thousands of lawsuits filed by individuals, states, and tribes connected to its practice of supplying kickbacks to doctors who prescribed OxyContin while downplaying its addictive qualities. A 2021bankruptcy rulingallowed family members to pony up $4.5 million in exchange for protection from civil suits; that decision wasoverturnedin federal court only weeks later. The judge in that instance noted that Sackler family members had withdrawn more than $10 billion between 2008 and 2018, at the long and sustained height of the opioid crisis, during which more than half a million Americans died.
By 2019, most of those funds were held in offshore accounts and thus unobtainable by US authorities. This latest ruling is meant to get funds into the hands of victims and their families;unlike the initial 2021 ruling, it did not meet with tremendous resistance on the part of those affected. Judge Eunice C. Lee, who wrote the three-judge panel's opinion, noted that the bankruptcy code in some instances allows liability protection for corporate owners who haven't filed for personal bankruptcy protection. No Sackler family member has been involved with Purdue since 2018.
According to the settlement, the company will be restructured into Knoa Pharma. The new entity will be overseen by a public board and will continue to manufacture OxyContin as well as other drugs; among the latter will be drugs aimed at reversing and treating addiction. Company profits will go toward addiction treatment centers and restitution..