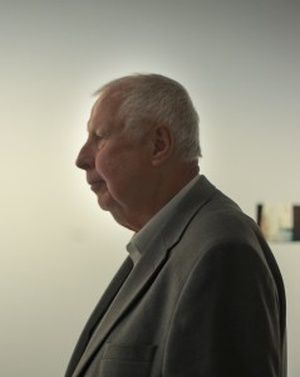 German Conceptual artist Hans-Peter Feldmann, known for his works in which everyday images and objects are repeated, often to humorous effect, died May 24 at the age of eighty-two. In works variously comprising artist's books, posters, and multiples, Feldmann, a compulsive collector, recontextualized his subjects in a manner that presaged the appropriation art of the 1980s. Though his methods appeared simple, the results were anything but.
On winning the Solomon R. Guggenheim's $100,000 Hugo Boss Prize, for example, an honor typically attended by a solo exhibition at the New York institution, Feldmann decided to display the cash itself, rather than any conventional artwork. "One hundred thousand used one-dollar bills completely covered the gallery walls in neat, overlapping rows," wrote Matthew Higgs in a 2011 issue ofArtforum.
"What could have come across as an overly literal, even pedantic gesture turned out to be an unexpectedly melancholic and aesthetically seductive experience."RelatedHELEN FRANKENTHALER FOUNDATION SUED FOR "DESTROYING" PAINTER'S LEGACYBMA CREATES PAID INTERNSHIPS HONORING VALERIE MAYNARD Hans-Peter Feldmann was born on January 17, 1941, in Düsseldorf. Having gained an interest in art that he chalked up to the "boredom" of post–World War II life in Germany, he studied painting at the University of Arts and Industrial Design in Linz, Austria. Determining that photographs were "entirely sufficient" to convey his ideas, he turned away from that medium to artist's books.
His first series of these, "Bilder" (Pictures), 1968–71, were a group of small handmade volumes, each containing various pictures—or in some instances, one picture repeated over and over—of a single subject, ranging from knees to chairs to ships. Feldmann'sSecret Picturebookof 1973 featured thirty small black-and-white pictures of a lingerie-clad woman's torso tucked at various intervals into an academic book, where they might surprise the unknowing reader; theNew York Times'sKen Johnson later noted that the work "pointedly embodies the artist's mischievous relationship to high culture." A number of works relied more acutely on the imagination of the viewer, for example the suiteAnsichten von Autoradios, in denen gerade gute Musik spielt(Pictures of Car Radios Taken While Good Music Was Playing), 1970–90. In contrast with many of his peers, Feldmann refused the commercialization of his work, which he produced in unsigned, unlimited editions.
Following a 1980 exhibition of his work in Ghent, Belgium, he stepped away from the art world and worked for a time selling thimbles in Düsseldorf. A decade later, curator Kasper König coaxed him back to publicly exhibiting his work, awarding him a 1990 solo show at Portikus, in Frankfurt. Feldmann's work by this time had grown beyond books and series of amateur photos and commercial prints to include toys, furniture, and other objects, which he presented in increasingly larger installations.
His oeuvre often had a polarizing effect, as evinced, for example, in two early-1990s reviews inArtforumtwo years apart, onecastigatinghis collections as little more than dime-store displays and the otherlaudingthem as "one of the most important efforts of the '60s and '70s." Despite the attention of this nature, and thanks in large part to his rejection of commodification, he remained largely unknown outside of Europe for decades to come. Feldmann in the 2000s continued his serial works, but expanded his practice to include photography, shooting his own photos rather than using found images. Among works of this kind are100 Years, 2001, for which he photographed 101 friends and relatives between the ages of eight months and one hundred years, andOne Pound Strawberries, 2005, a set of individual images of the titular fruits that make up a pound.
In 2010, Feldmann's room-filling9/12 Frontpage, 2001, comprising over one hundred front pages of newspapers from around the world dating to the day following the attack on New York's World Trade Center appeared at the Eighth Gwangju Biennale. Shortly thereafter, he was awarded the Hugo Boss Prize, becoming the honor's oldest recipient and finally achieving global recognition. Feldmann enjoyed solo exhibitions of his work at Sweden's Malmö Konsthall, Munich's Pinakothek der Moderne, France's Les Rencontres d'Arles, and London's Serpentine Galleries, among other institutions.
In addition to the Gwangju Biennale, Feldmann's work appeared in the Bienal de São Paulo, two iterations of the Venice Biennale, two editions of Documenta, and Skulptur Projekte Münster, for which he collaborated with the city to renovate a public bathroom. His work is held in the collections of the Fotomuseum, Winterthur, Switzerland; the Museu d'Art Contemporani de Barcelona, and the Hamburger Banhof, Berlin. Asked in 2015 by aninterviewerfrom Humlebæk, Denmark's Louisana Museum of Modern Art if he had any advice for young people, Feldmann, as usual, placed art's value not in its financial worth but in the reaction it engenders.
"When someone sees it and experiences something," he said, "that's when art happens.".