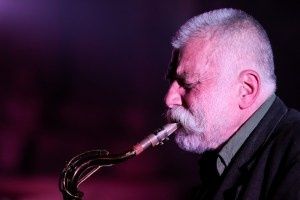 German saxophonist Peter Brötzmann, whose fiercely innovative style and explosive playing made him a towering figure in the world of European free jazz, died June 22 at his home in Wuppertal, Germany. He was eighty-two. Emerging as a visual artist and as a self-taught saxophonist and clarinetist at the end of the 1950s, Brötzmann ultimately chose improvisational music as his main mode of expression, one that arguably found its most unalloyed form in his landmark 1968 albumMachine Gun. The prolific reedist would go on to make over fifty albums under his own name, deploying various experimental techniques—playing saxophone underwater or squonking along with twittering birds—on a number of these, many of which featured his own artwork on their jackets.RelatedHELEN FRANKENTHALER FOUNDATION SUED FOR "DESTROYING" PAINTER'S LEGACYBMA CREATES PAID INTERNSHIPS HONORING VALERIE MAYNARD Peter Brötzmann was born March 6 in Remscheid, Germany, during World War II.
He initially studied painting, falling in for a time with the Fluxus movement, befriending Joseph Beuys ("I still have some letters from Beuys at home," he told theRed Bull Music Academyin 2018. "He always said, Brötzmann, do your shit, do your thing") and working as an assistant for Nam June Paik, notably helping the future video-art legend to situate his inaugural gallery installation, at Wuppertal's Galerie Parnass in 1963. Disillusioned with the gallery scene and inspired by the American jazz legends then touring Europe, among them Sidney Bechet, John Coltrane, Miles Davis, and Eric Dolphy, Brötzmann began making music. In 1967 he released his first album—on his own label, BRO, thanks tohis beliefin the Marxist adage that "the worker shouldn't give the tool and product out of his own hand." TitledFor Adolphe Sax,it featured double bassist Peter Kowald, with whom he would collaborate on numerous occasions, and Swedish drummer Sven-Åke Johansson.
The following year, he releasedMachine Gun, an astoundingly corrosive effort on which he led an octet that included Kowald, Johansson, and Dutch percussionist Han Bennink, by whom he was profoundly influenced. The album took its title from trumpeter Don Cherry's nickname for Brötzmann, which was evocative of the saxophonist's furious style. In 1969, this time at the helm of a sextet, he recordedNipples, whose jittery, unnerving racketexcitedfans andconfusedthe unschooled. European tours with such American jazz greats as Cherry, soprano saxophonist Steve Lacy, and pianist Carla Bley further burnished Brötzmann's reputation.
Around 1970, he joined the Amsterdam-based tentet Instant Composers Pool, of which Bennink was a member, along with Dutch pianist Misha Mengelberg. Bennink would appear, drumming on trees and various other woodland flora, on Brötzmann's 1977Schwarzwaldfahrt, recorded outside the Black Forest. As the 1980s dawned, heralded by the wailing guitars of heavy metal, the industrial shriek of bands like the UK's Throbbing Gristle and the squall of seminal noise rockers like Germany's Einstürzende Neubaten, Brötzmann turned toward these and other uncompromising sounds. With guitarist Sonny Sharrock, bassist Bill Laswell, and drummer Ronald Shannon Jackson, he formed the punk-inflected free jazz supergroup Last Exit, whose volume typically exceeded even the earsplitting levels associated with free jazz.
Relentlessly active, Brötzmann played on dozens of albums by other artists as diverse as pianist Cecil Taylor, avant-garde guitarist and vocalist Keiji Haino, and multi-instrumentalist Joe McPhee. He led the Albert Ayler–inspired Die Like a Dog quartet, additionally comprising trumpeter Toshinori Kondo, bassist William Parker, and drummer Hamid Drake, for over ten years. From 1997 to 2012, he toured and recorded with the Peter Brötzmann Chicago Tentet (originally an octet). In the past few years, his health had declined, as pneumonia ravaged his lungs, leaving them enlarged, like those of aglassblower.
Still, he continued to play, reuniting what British critic Peter Margasakcharacterizedas his "mind-melting" quartet with bassist John Edwards, drummer Steve Noble, and vibist Jason Adasiewicz earlier this year before being told by doctors that he had to stop altogether. "[Music is] not something you can do once in a while at some stage of your life—whether it lasts four weeks or four years," he told German journalistKarl Lippegausin 2021. "It's a lifelong journey to figure out: how far can you go, where can you go, where are you at this moment.".