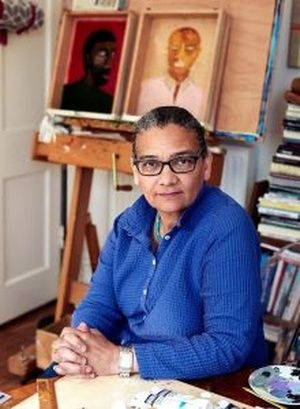 Zanzibar-born artist, educator, and curator Lubaina Himid has been named the winner of the 2023 Maria Lassnig Prize, a biennial award that recognizes midcareer artists and is attended by an €50,000 ($55,000) cash prize. Himid will present a solo exhibition at the UCCA Center for Contemporary Art in Beijing, the institutional partner for this year's prize; the show will be her inaugural exhibition in Asia. "Lubaina Himid's bold formal innovations and trenchant historical explorations have established her as one of the most important voices in global contemporary art," said UCCA director Philip Tinari in a statement. "UCCA is honored and thrilled to be able to present her work to audiences in China for the first time."RelatedHELEN FRANKENTHALER FOUNDATION SUED FOR "DESTROYING" PAINTER'S LEGACYBMA CREATES PAID INTERNSHIPS HONORING VALERIE MAYNARD Born in 1954, Himid moved to England with her mother, a textile designer, at just four months old, following the death of her father.
She launched her career as an artist in the mid-1980s, creating works that addressed themes of cultural history, slavery, and reclamation as well as issues of gender and identity. Concurrently, she worked as a curator, notably organizing shows including 1984's "Into the Open." Initially presented at the Mappin Art Gallery in Sheffield, England, and traveling to venues across the country, the exhibition is widely considered to be the first major survey of the work of new Black British artists. In 2017, Himid became the first Black woman to win the prestigious Turner Prize and, to date, the oldest person to receive the honor.
A Royal Academician, she was awarded a CBE for her contributions to the arts in 2018. She is emeritus professor of contemporary art at the University of Central Lancashire. Himid was the subject of a solo exhibition at London's Tate Modern in 2021.
Her work is held in the collection of institutions around the world including the Hammer Museum, Los Angeles; the Rennie Collection, Vancouver; the Solomon R. Guggenheim Museum, New York; Tate and the Victoria & Albert Museum, both in London; Musée cantonal des Beaux-Arts, Lausanne; Museum Ludwig, Cologne; and the Sharjah Art Foundation. The prize was conceived by Maria Lassnig before her death in 2014 at the age of ninety-four.
Previous recipients are Cathy Wilkes (2017, MoMA PS1, New York), Sheela Gowda (2019, Lenbachhaus, Munich), and Atta Kwami (2021, Serpentine Galleries, London)..