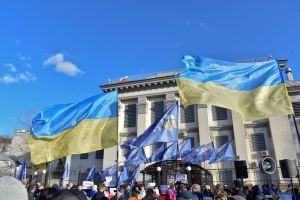 The Kyiv Visual Culture Research Center, organizer of the Fifth Kyiv Biennial, has announced that the event will take place across three Ukrainian cities and will examine themes of combat and displacement. Titled "Against the Logic of War," the event will additionally travel to Vienna, Warsaw, and Berlin. Owing to its wide-ranging nature, the Biennial is being reframed as a "perennial" European event meant to point up international solidarity and to bring together Ukrainian artists from across the continent to which many of them arrived comparatively recently.
The decision to expand the Biennial's footprint comes as the unprovoked Russian invasion of Ukraine grinds through its second year.RelatedHELEN FRANKENTHALER FOUNDATION SUED FOR "DESTROYING" PAINTER'S LEGACYBMA CREATES PAID INTERNSHIPS HONORING VALERIE MAYNARD "It's one of the roles of the cultural realm to counter the logic of war, which also attacks everything that is civil by destroying cultural infrastructure," Biennial co-organizer Vasyl Cherepanyn toldArtnet News. "This is a deliberate attack on our cultural identity. It's very important to counter these genocidal intentions." The Biennial will open in Kyiv on October 5 at the Dovzhenko Centre; on October 7 at Ivano-Frankivsk's Asortymentna, and on October 8 at Sorry, No Rooms Available, an art space in Uzhhorod, which like Ivano-Frankivsk is in western Ukraine.
Vienna's Augarten will host the Biennial beginning October 17, while Warsaw's Museum of Modern Art will welcome it beginning October 23.
No date or venue has yet been announced for the Berlin edition, but the Biennial is expected to open there sometime next year. "Instead of abandoning the project and thus submitting to the logic of war that attacks everything civil, the 2023 Biennial draws upon its founding idea: that of being a multi-centric initiative in a European, interconnected form [based on solidarity]," said Georg Schöllhammer, Hedwig Saxenhuber, and Serge Klymko, the organizers of the Biennal's Vienna iteration, in a statement. A complete list of participating artists will be made public in September..
.