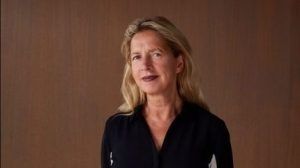 Curator, writer, and art historian Iwona Blazwick,chairof the Royal Commission for AlUla's Public Art Expert Panel in Saudi Arabia and theformer longtime directorof London's Whitechapel Gallery, will curate the Eighteenth Istanbul Biennial. Slated to take place September 14–November 17, 2024, the Biennial is sponsored by Turkish conglomerate Koç Holding and organized by the nonprofit Istanbul Foundation for Culture and Arts (İKSV), which additionally stages the city's film, theater, and music festivals. The event's theme and participating artists have yet to be announced. Blazwick raised eyebrows last summer with her decision to accept her role in Saudi Arabia, which, like Turkey, has a poor human rights record.
Responding to critics at the time, she asserted, "I'd rather be involved where I can help contribute to freedom of expression, to art being nurtured, because I believe art changes society."RelatedHELEN FRANKENTHALER FOUNDATION SUED FOR "DESTROYING" PAINTER'S LEGACYBMA CREATES PAID INTERNSHIPS HONORING VALERIE MAYNARD Blazwick led the Whitechapel from 2001 to 2022, during which time she gained a reputation for a commitment to cutting-edge art and for commissioning new works from highly acclaimed artists.
She oversaw the gallery's 2009 expansion and strengthened its already outstanding programming with solo exhibitions of artists such as Isa Genzken, Nan Goldin, Hannah Höch, and Sarah Lucas, and group shows including "Back to Black: Art, Cinema, and the Racial Imaginary" (2005) and "Electronic Superhighway (2016–1966)" (2016), the latter giving rise to numerous post-internet-themed exhibitions at other institutions. Among the schemes she has inaugurated are the Tate Turbine Hall and Whitechapel Gallery commissioning programs and the Max Mara Art Prize for Women. This last reflects her career-spanning commitment to raising the profile of art by women. Several of the award's recipients went on to win the Turner Prize, considered one of the UK's top honors.
Before landing at Whitechapel, she was director of exhibitions and displays at Tate Modern, having arrived there from the Institute of Contemporary Art London.  She earlier served as director of the pioneering feminist AIR Gallery..
.