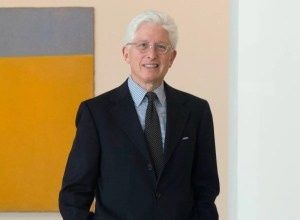 The Jewish Museum in New York has announced that James S. Snyder will serve as its next director, beginning in November. Snyder, since 2019 the executive chairman of the Jerusalem Foundation, spent more than forty years in high-level positions at New York's Museum of Modern Art and Jerusalem's Israel Museum.
He fills the role left vacant by Claudia Gould, who departed in June after twelve years on the job. TheNew York Times, which first reported the news, noted that Snyder arrives to the institution not only as a veteran museum manager, but as someone with multiple and lasting connections to the Jewish philanthropic community in New York and around the world. Snyder's fundraising skills were of major interest to the museum, which is in solid financial shape and, thanks largely to Gould's efforts, enjoying an elevated reputation owing to a number of exhibitions that simultaneously centered Jewish heritage and viewpoints while appealing to broader audiences.RelatedHELEN FRANKENTHALER FOUNDATION SUED FOR "DESTROYING" PAINTER'S LEGACYBMA CREATES PAID INTERNSHIPS HONORING VALERIE MAYNARD "Running a museum today is harder than it's ever been and James's experience is a huge asset for us at this time," Robert A.
Pruzan, the museum's board chair, told the paper. Pruzan originally asked Snyder if he knew of any candidates who might be appropriate for the position, and then wound up asking if he might be interested himself. "James has a very expansive vision of the opportunity for the museum, aligned with the board." The Pittsburgh-born Snyder began his career as an intern at MoMA in 1974, where he rose to oversee the institution's 1984 Cesar Pelli–designed expansion and was eventually named deputy director.
In 1997, he departed for the Israel Museum in Jerusalem, where he served as director until 2016, when he stepped down to take on the role of international president of that institution, which he occupied through 2018. Under his leadership, the museum's attendance doubled and its endowment grew to $200 million. Snyder expressed an interest in collaborating with New York institutions including El Museo del Barrio, the Studio Museum of Harlem, and the Hispanic Society Museum & Library, noting that "diversity and inclusiveness is looking at how your culture has resonated over time with other cultures and in your own contemporaneous moment.".