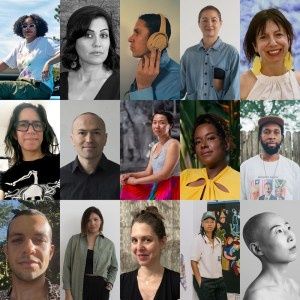 The New York–based Joan Mitchell Foundation has revealed this year's recipients of the Joan Mitchell Fellowship, which wasestablished in 2021. Fifteen artists working in the fields of painting, sculpture, installation, and land art will each receive an unrestricted $60,000 grant, to be disbursed over a five-year span, beginning with a $20,000 award the first year, followed by the issuance of $10,000 annually for the next four years. Fellows will additionally receive support in the form of private consultations with arts professionals, networking meetings, and programs focused on personal finance, legacy planning, and thought leadership.RelatedHELEN FRANKENTHALER FOUNDATION SUED FOR "DESTROYING" PAINTER'S LEGACYBMA CREATES PAID INTERNSHIPS HONORING VALERIE MAYNARD Among the recipients are Detroit–based multimedia artist Ash Arder, whose 2022 installationWhoop Housedemonstrated the value of solar energy; installation artist William Lamson, of Brooklyn, whose work investigates the ecologies of living and nonliving systems; and New Orleans–based artist Demond Melancon, whose highly decorated suits and masks honor and explore Black identity. Many of the recipients identify as Black or of African descent, Native American or Indigenous, Asian, Hispanic or Latino, and multiracial. As well, a majority identify as female.
The artists were selected via a multiphase jury process from among 148 applicants chosen by a diverse pool of nominators from forty-three states and Puerto Rico, and reflecting a wide range of arts backgrounds; 60 percent of this year's nominators were artists themselves, and more than half were first-time participants in the process. "In 2021, we reconceived and relaunched our primary granting program to more actively explore the ways in which multi-year financial support can help artists transform their practices and secure their legacies," said Christa Blatchford, the foundation's executive director, in a statement. "The 2023 cohort of Joan Mitchell Fellows again underscore the value of this approach, bringing together a group of artists with diverse practices, interests, and backgrounds, all of whom articulated, in their Fellowship applications, the impact that financial and professional support over time will have on their work and their lives. This commitment to extended engagement is also in line with the legacy of Joan Mitchell herself, who so often offered personal assistance to other artists, and whose directive for her foundation was to continue that approach of direct support for working artists." The Joan Mitchell Fellowships represent a reimagining of the foundation's traditional Painters & Sculptors Grants, which launched in 1994 and annually awarded twenty-five artists unrestricted grants of $25,000. The current model is meant to provide the recipients with a steady income stream that will allow them to build their creative practices and careers.
A full list of recipients is below: Ash Arder, Detroit, MI Raheleh Filsoofi, Nashville, TN Nicholas Galanin, Sitka, AK Jacqueline Kiyomi Gork, Los Angeles, CA Ana María Hernando, Niwot, CO Mala Iqbal, Brooklyn, NY William Lamson, Brooklyn, NY Kathy Liao, Kansas City, MO Anina Major, New York, NY Demond Melancon, New Orleans, LA Javier Orfon, San Lorenzo, PR Mikayla Patton, Pine Ridge, SD Naomi Safran-Hon, Brooklyn, NY Sable Smith, New Jersey Jayoung Yoon, Beacon, NY.