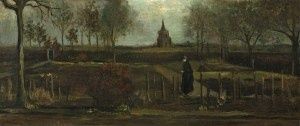 A $6.9 million painting by Vincent van Gogh that was stolen in a 2020 smash-and-grab at a Laren, Netherlands museum, was handed over to a detective this past weekend in an Ikea bag.The Parsonage Garden at Nuenen in Spring, an 1884 oil-on-paper work showing a figure surrounded by trees, was delivered to Dutch private art detective Arthur Brand on the Amstelveld, a public square in Amsterdam near the Prinsengracht Canal. Brand, known as the "Indiana Jones of the art world," called the subsequent authentication of the painting "one of the greatest moments of [his] life." The painting was swiped on the night of van Gogh's birthday, March 30, as the Covid-19 crisis was exploding around the world. A man in his fifties, later identified as Nils M., a resident of Baarn, Netherlands, snatched the work from the Singer Laren Museum near Amsterdam, smashing through the institution's front door with a sledgehammer and escaping on the back of a motorbike. The painting's frame was found discarded in the parking lot.
Five months later, again working at night, the Baarn bandit pinched Frans Hals's 1626Two Laughing Boys with a Mug of Beer, an $18.5 million painting depicting two boys enjoying themselves over beer, from the Hofje van Mevrouw van Aerden Museum in Leerdam. He wasnabbedin April 2021 and a few months later wassentencedto eight years in prison. The theft is believed to have been masterminded by art thief Peter Roy K., himself behind bars for distributing cocaine, with the goal of using the painting as a bargaining tool in order to gain a reduced sentence.RelatedHELEN FRANKENTHALER FOUNDATION SUED FOR "DESTROYING" PAINTER'S LEGACYBMA CREATES PAID INTERNSHIPS HONORING VALERIE MAYNARD Brand worked closely with Dutch police to obtain the work, which had been on loan to the Singer Laren Museum from the Groninger Museum in Groningen, Netherlands, at the time of its pilfering. Groninger Museum director Andreas Blühm in a statement noted that the painting was in "good condition" but that it had "suffered" and is being assessed for conservation needs.
The museum's insurer, which paid the institution the full value of the work, is technically the painting's owner. The museum, however, has the first right to buy it back, which it is expected to exercise..